Better WAHM Internet Business Solutions
Are you an aspirant WAHM – Work at Home Mom, but seriously disillusioned? Running out of suitable ideas?
You've looked at masses of the offered earn-income-online and home based business solutions to work at home, and what did you find? All of them try to seduce you into becoming an Internet marketer for their products. With promises of, if not instant riches, then quite soon. Sure, many of them may work quite well, but where is the fun in that? Just more soul-destroying slogging . . .
The dream solution is to stay at home, look after the kids, and simultaneously earn a satisfying income – to become a WAHM while doing what you love, in fact. Not a really attainable dream is it? Especially the "satisfying" part – doing something that is both mentally stimulating and financially pleasing?
Wrong! Such a wish is a practical reality. Perfectly do-able. Just about anybody with a bit of go (and who has more demonstrated "go" than a mother raising kids!?) can do just that.
And here comes the Big Secret, the Kingpin: The only qualification you need is something you know something about. It can be a hobby, a passion, a specialty, training or career (from before the kids came along!) If you have a subject that you like chatting to your friends about, you're as good as made. A blossoming Infopreneur.
Surprise! Here comes yet another Big Secret! This is something nobody's ever told you. It is a closely guarded secret, and I'm perfectly serious about it: This is knowledge that is not bandied about – we do not want to involve start-stoppers. Gives you bad rep; spoils the neighborhood.
But that is not anything YOU have to worry about – you've already proved that you can stay the course – you're raising kids, after all! That is not something you get fed-up with, and drop like a spoiled apple – that's something you stick to for life.
Right. You're a go-getter, you've ambition and you stick to your guns. Now we can get down to the nitty-gritty: What you will be doing is learn how to design and build a Proper Website. Not just any old website (you can pick up free ones everywhere you look; and find them dead as a doornail), but a website that is painstakingly designed to:
Be a vehicle to share your interest/passion/hobby/knowledge (don't worry too much about "knowledge" – you'll have ample time and guidance and tools to do intensive research.)
Be an effective tool to draw delightfully large numbers of visitors.
Be an earner for you (you do not have to sell anything, though you can if you want). A properly implemented website can actually be a passive income-generator.
I know the way to achieve this may seem daunting at first, but stay cool – you use a specifically designed tool to tackle every aspect of website design. All you need to do is listen carefully (a video
tutorial
for each step), read everything presented . . . And Voila! Everything falls into place! You do not need to know anything about how the Internet functions, or learn to use HTML code to create websites, or whatever.
Your website gets built by an easy-to-use block-builder
– all you concentrate on is the actual content of the site. The basics are handled
invisibly in the background
by the software.
How easy is that!? I know for a fact that there is nothing else on the Internet that uses this method in website creation (though all of the Big Hosts would wish to!) Good thing they cannot copy it – they're just too big, and for this concept to work, you need to be a small group and passionate and personally involved. I can't ever see Yahoo being and doing that . . .
So, mind made up? Ready to take control of your future in a very exciting (and profitable!) way? One thing I can promise you straight away is that you'll never be sorry – more than 40 000 of us can't all be wrong, can we? (That's the number of SiteSell/Solo Build It! satisfied website owners that have completed the course! And that fact all by itself does say something thought-provoking, doesn't it?)
We'll not be building your dream right here; for that you need to go to the dedicated site. Been good meeting you, and I wish you all the happiness you deserve! But we'll meet again – welcome in our happy family! See you there – you'll be pleasantly surprised!: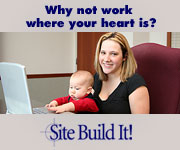 P.S.: Nearly forgot to say: Don't worry – this will NOT cost you an arm and a leg – for a few cents a day and a few hours of work a week, YOU CAN DO IT! Keep tight hold of that thought – thousands of ordinary people like you and me have done just that, and very successfully! And once you've joined our family, you only need to tell a few of your friends about what luck you had, and your new site will cost you nothing – you automatically become an affiliate as family member.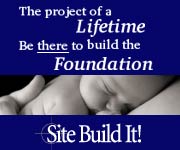 "Affiliate" means that if you tell someone about a service you like, the people delivering that service say thank you in a pleasantly tangible way.
P.P.S.: What I'm sharing with you is not a pyramid scheme – this is a uniquely designed, one-of-its-kind online course on a site-building-hosting-marketing system. It is solely a many-times-over proven way to becoming a fulfilled human being. At peace with yourself and the world.



Still hesitant?
Why don't you have a relaxed look at how four other WAHMs started out? It just might be the most revealing and important hours you've ever spent! And it is totally FREE!
__________________________________________________________________________________________________

Right-Click right HERE to download the
"WAHM-It! Master's Course e-Book"
You are about to download a 582KB pdf file
("wahm-masters.pdf"). Save it to your desktop.
After you have downloaded, double-click it to open.
It's yours to do with what you want: Share it with friends on your favorite blog; send it by email; burn it to CD; share your good news!
__________________________________________________________________________________________________
Find out how to use the Net, the right process, and the right tools to achieve the work at home success that you have been dreaming about...
Be there for your kids, generate long-term income (that could very well become your family's primary income), fuel your own creativity and passion, and of course, have fun!
Right-Click HERE to download the "WAHM-It! Master's Course"







This service is not available anywhere else on the Web, and off-line only at those Universities and other Institutions (more than 30) where it is offered as the Webmasters training course in Internet Business.