Review of the SiteBuildIt! Website Builder Process
Many people are looking for instructions on how to build a website, but why would someone choose Solo Build It! to build a Website? Not only have hundreds of thousands "newbies" done that, but more and more long-standing, professional Website Builders and Webmasters are doing it. There must be good reason for all of them choosing SBI! as a vehicle.
What's in it for me?
SBI! 2.0 (the latest version) is one of the most popular website and e-Business building programs available today. But it is also much, much more than merely a website building system: In its genre SBI! is unique - nowhere else will you get such a well-thought out arrangement of instruction, tools, techniques and overwhelming detail in explanations. And all happening in a vibrant, helpful community of like-minded people.
SBI! 2.0 also goes way beyond just building a website, it goes into overwhelming detail of how to build traffic and income from your new website. See this short video from a young mother who changed her life completely through this program:
Why I Love SBI... A Personal Journey
by Jaime from homedecoratingcoach.com





Detailed Review of the Solo Build It! Process
The SBI! program is a refreshing approach to not only website building, but also to online, Internet business education. It is definitely not "yet another content management system" (browser-based website development kit) - it's about building a successful, thriving online BUSINESS.
I have to tip my hat to SBI! for the way that they have achieved this. SiteSell provides, or rather insists, on a huge amount of planning and training BEFORE you register the domain name for your chosen niche. Their complete strategy focuses on a four-step process of: Content > Traffic > PREsell > Monetize ("C-T-P-M") All this is covered in "10 days" of modules. This does not mean you have to finish all this in just 10 days - you work at your own pace, and only move to the next "day" when you are comfortable with your understanding. There are very helpful Forums (one for basically every "Day") if you feel a bit 'stuck' - in no time at all you'll be up and running again.
Action Guide "Days"
In days 1 - 5 of the course YOU BRAINSTORM, RESEARCH AND PLAN! - you do all of this thoroughly before you even think about creating a website. That is what SBI! stresses at this stage: You need to lay a solid foundation in a niche with high potential for profit BEFORE you start building your site and business. One domain name (which you choose) is included in the price; as is hosting. The education in this course is great, especially if you are new to internet business building.
Tool to use for day 1 - 5:
You'll start using this brainstorming tool on Day 2 to do keyword research and brainstorming niches. This keyword tool is one of the best on the Internet. It is partially powered by Wordtracker (http://www.wordtracker.com As of June 2010, this would cost you $59 for one month's use, or $329 per year. It is included free with SBI!). You simply type in the keyword (or phrase) you wish to research and in a matter of minutes receive a full keyword analysis report (much like you would from Wordtracker or Keyword Discovery).





This result is lot more user-friendly than pay-for tools on the internet. With Brainstorm It! (as with the other keyword tools), you get competition and demand figures, but its profitability rating is much improved over the other tools' results.
But this is the Handy Part:
You can explore the other columns in your MKL (Master Keyword List) to find competitor sites, content, images, Google bid prices and lots, lots more. All of your research is stored in your SBI! account (you can export this MKL to a spreadsheet at any time). I find this tool a lot easier to use (and more instructive) than the other major keyword tools on the Internet.
SearchIt! is another, broader and immensely useful research tool that you can use to perform a very large number of research, content, and resource searches that use free research websites throughout the internet. Of course, you can do this yourself, but the SearchIt! Tool integrates all of these features into a simple dialog box:






Forgot to mention that anyone can use this tool? Test Drive it yourself at SearchIt! Toolbox Members do get a "cleaner" version of the tool (meaning that they do not view the tutorial pages and there are no time limits on its usage), but as a free user, the tool is completely functional!
The first steps of the Action Guide include choosing a domain name (after you have done plenty of research on what the theme or niche of your website will be). Once chosen, you can access the SBI Site Central immediately. Here is where all the Action takes place! All of the site building modules and research tools can be accessed from Site Central.
Now you can start to build your own website. Solo Build It! provides you with two options for creating pages:
Use their content management system to create a website in the browser itself (no HTML, FTP or other technical knowledge required).
Upload your own HTML onto their server.
Actually Building your Website:
The next step is to choose a theme for your website (you customize this in the SBI! Look and Feel Selector section):
In this Selector you customize a chosen theme by changing things such as the color, the background images, the fonts, the sizes, and the alignment, and so on.
Creating Content:
Now at last you are ready to really start filling out your website, fleshing the bones, so to say. This is in principle as simple as filling in dialog boxes, like this example below:
Your First Page is Done!
You can use "Preview" to see how your page will look. Satisfied? Hit the Built It! button and you have your first page up!
From this point on, you can tweak your look and feel to your heart's content, add pages, images, navigation bars, RSS Feed links, [Content 2.0] almost anything that a standard website can offer. All this is done through simple dialog boxes, much like the one shown above. And of course, you can always go back and edit or change the pages or styles that you have already created through these simple menus.
After you've begun building your first content pages, Site Central includes a number of other resources that focuses on their other three keys to success:
The Business Center (also located on the Site Central web page) includes modules where you can build a newsletter, blog, create forms, park additional domains and more.
The Traffic Center provides a traffic statistics analyzer, Search Engine rankings for your pages, Image Search stats, etc., allowing you to continuously analyze your market while recording the vital analytical statistics required to grow your business or website (such as a built-in traffic analyzer; or link tracker; etc.).
Conclusions
The SBI! Block Building System offers quite a lot more than is evident at first sight. You really have to go through the whole process to appreciate the immense amount of thought and preparation that went into its creation. Add to this impressively powerful building system a whole array of forums where you can get help day and night, and you have something that is quite unique in the dog-eats-dog milieu of today's Internet.
A Word of Caution
You have to realize that it takes more than just having a website on the internet to succeed. You need traffic. You need customers. You need to convert these customers into buyers.
But Help is at hand: SBI confronts all of these issues (and does so exhaustively, OVERdelivering on each and every issue) with both education and comprehensive but easy to use tools. At the end of the day, anybody that is able to use an internet browser can build a professional-looking web business, utilizing the tools and understanding on how to grow through the SBI! program.
Cost effectiveness
The price is currently $299/year. If you break that down into components, an interesting picture emerges:If this was merely hosting cost (which every website needs), then the outlay is about 82 cents per day. This is not a bad bargain - you can get free hosting if you look around. But SBI! is not only hosting:
The annual subscription also includes:
The price of the annual domain (normally about $10-$20 per year).
A tool like Brainstormer ($329/year at Wordtracker; and only part of it).
Free education (Plenty of companies that will sell you similar information for $1000 or more)
Content management system. (With no hosting, tools, domain names, resources, forum, or training this starts at $300. To have a freelance Webmaster build and maintain your site could cost thousands.)
"Background" processes. (Like pinging the search engines on schedule, updating your sites Index file, keeping track of visitor statistics, to name only a few. Any of these cost from $30/month upwards.)
With SBI! you get a "package" which could cost you in excess of $1,300 annually if you were to source the services separately. Saving over $1 000 per year doesn't sound like a bad deal to me at all... And on top of this saving you get a website that is guaranteed to be successful!
What is included in SBI!:
Sometimes it's hard to communicate to an audience all that is included with Solo Build It!. One tends to think it's just a "sitebuilder" or just "hosting." You need to see "the rest of the story". This page shows how SBI! is actually a "process" with a massive set of tools that leads to a successful online business. It's pretty amazing when you see them all in one place:




Solo Build It is sharply focused towards the online website beginner. This includes:
• Affiliate Marketing
• eStores focusing on info products, home based sales, dropshipping, etc.
• Personal Websites (family website, etc.)
• Simple Business Websites (to support pre-existing brick-n-mortar stores)
• Professional Websites (to support services-providers like CPAs, Realtors, Lawyers, Doctors, Consultants, etc.)
• Other (any application that requires a professional looking website that is affordable and easy to manage)
Even so, more and more professional website designers find SBI!'s all-inclusive process and background support functions very convenient to use.
Still Need a Little More Help to Decide?
Want to take SBI! in course format? SBI! is also taught as a online business course at over 40 colleges and universities around the world. SBI! eLearning, the distance education equivalent of the offline course, is a great option if you'd like someone to teach you how to build your business rather than do it yourself.
There is much to say for this approach: Instead of battling through page after page of instructions and then still missing or misunderstanding some crucial point, why not use an instructor? In a 1-on-1 situation you'll never miss a crucial step, and your coach will quickly clarify uncertainties. The added bonus is that within about two and a half months you will have a perfectly tuned site up and running (it took some of us that number of days just to progress to Day 5!)
SBI! eLearning is a 12-week, instructor-led, online education course that takes you, step-by-step through the process of building your very own successful, thriving Web business with SBI!
Learn more about SBI! eLearning:

What About Your Existing Small Business - Need a Turnkey Website?
Need a site built for you or your small business? Learning to build a site yourself - even with a simple to use system - is not for everybody. You may need to spend your time on your business.
SiteSell Services Experts will build a site for you using the SBI! platform, process and tools. SiteSell offers the best of both worlds - specially trained experts that work closely with you to build a site that looks good AND gets visitors (traffic) - essential to a successful Web presence. You choose how much or how little you want to be involved while your site is being built.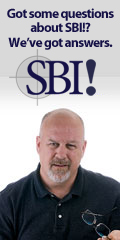 Do you have some questions about SiteSell Services?
Here's how it works in a nutshell:
A specialist is assigned to you and starts with a personal introduction and a questionnaire. You explain your business so your specialist understands your MWR (Most Wanted Response). After that, you oversee your specialist, providing input as requested by him/her.
Your dedicated specialist continues to provide ongoing, specialized advice, as needed, on an hourly basis. And the SBI! software takes care of all the technical stuff.
There are several packages available to suit your particular small business budget and needs and each one focuses on building your business with you.



Learn More About SiteSell Services






____________________________________________________________________________________________________
Take Advantage Of The Success Guarantee &
Turn Your Purchase Into A Risk-Free Trial.
Order SBI! 2.0 At The Same Price As The Original SBI!



_____________________________________________________________________________________________________