Sprinter Outpatient
Not too badly wounded by the bear-traps out there, but a lot more cautious now? Maybe all you need is some reassurance that not everybody out there is after your blood (and your money)!?
That's perfectly true. If you look far and deep enough, you'll find them. There really are people (and companies!) to be found on the Web that are more interested in helping YOU, than just making a quick buck.
For myself, I found that quite hard to believe, at first. Cautious being my second name (got scorched myself . . .), I did quite a lot of investigation before making a decision.
The first lot I joined (ProfitLance) seemed above water and I was quite impressed. Unfortunately, despite a lot of on-site info, they are quite inflexible and I could not really do "my own thing". (You "get" about 70 websites, but they're all "cookie-cutter" sites – all cut to the same mold, with preset looks and affiliate products. And they do not respond to cries for help . . .)
Finally I stumbled upon Site Sell/Site Build It. (That's right, stumbled! They don't advertise, but rely on word-of-mouth to gain clients; preselected clients that will stay the course. Drop-outs do give one a bad rep . . .)
Thus with not much more hype, I invite you to investigate SBI!'s offerings – it's quite an eye-opener, and, once you learn to trust them, a very exhilarating ride!
I'll give you the link to their main landing page, but do yourself a favor and have a good look around at the other links on offer – it is worth the effort. After several months with them, I still daily discover new gems!
If you decide to join, do come back to my website – I'm slowly building up a Resources page, that will include tips, tricks and traps concerning building your own website. Happy hunting!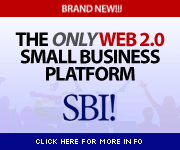 Too busy a sprinter to spend weeks building your own site – SiteSell Services can do it for you! For much, much less than a King's Ransom their professional Webmasters will have your site up in no time at all. Have a look: (If I wasn't so interested in the nitty-gritty of proper website design, this is the way I would've gone:)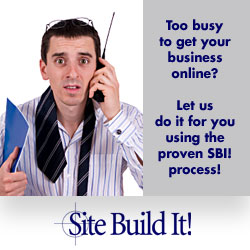 _________________________________________________________________________________________

Return to ER Reception for more options

_________________________________________________________________________________________